Navigator *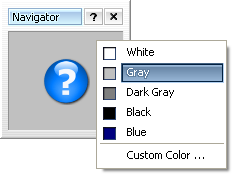 * only in Standard & Pro version
Navigator lets you see the image in its actual size (as against
edit area
and
the panel of object properties
).
Navigator instantly displays all changes made to the image. The background color can be changed by double-clicking.
If, at the chosen scale, the image does not fit into
the edit area
, navigator provides for scrolling the image by clicking and dragging.
Navigator has a context menu that allows you to quickly change background color.