Image Color Depth

The program supports the following color formats:
true-color with alpha-channel (32-bit)
true-color (24-bit)
256-color (8-bit)
16-color (4-bit)
monochrome (1 bit)
Changing the format of the color, icon colors are automaticly converted accordingly. When converting to 16-color format, you can select a level of dithering.

Since icons generally are such a small size, the quality of the 256-color image is very similar to a true-color image so, if you select 256 color format and draw an icon, you have a limited range of colors.
AWicons
provides a high-quality color reduction algorithm, so that you can create a 256-color icon from your original true-color images.
Image Size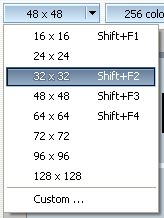 AWicons
can now edit images up to
128
x
128
in the standard version and up to
256
x
256
in the
Pro
version. You simply select the appropriate item in the drop down menu to quickly set the standard size of the image. You should select the
Custom...
item and set the necessary values of width and height, using the sliders, if a non-standard size is necessary.